Simplify Maximo Data Management
Quick data load setups. Easy to use.  Review changes before uploading.
---
Start My Trial!
 30 Day Free Trial   Purchase     User's Guide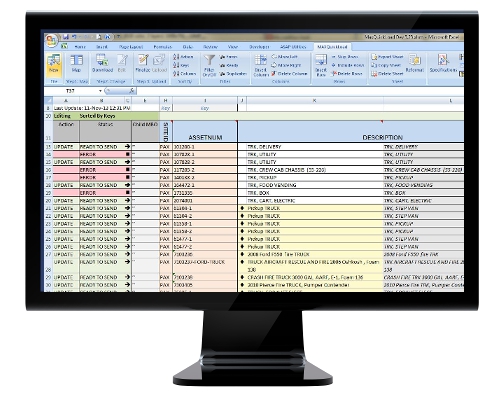 Max
Quick

Load® Excel Data Loader
Powerful, Easy to Use Data Management Tools
MaxQuickLoad is currently used by the following organizations:
City of Ft Collins Utilities
Cobb County Water System
Defense Information Systems Agency
Denver Water
General Dynamics Information Systems
Gwinnett County Department of Water Resources
Los Angeles World Airports
Metropolitan Sewer District of Greater Cincinnati

NASA Glenn Research Center
NASA Jet Propulsion Laboratory
NASA Kennedy Space Center
NASA Langley Research Center
Neolpharma
Sacramento Area Sewer District
STS International
University of Texas Medical Branch
Update Maximo From Excel

Quickly map, format, and upload
user spreadsheets into Maximo

Download From Maximo

Download query record sets to Excel
and upload changes back to Maximo.

Update Asset Specifications
Easily manage Asset specifications
using a graphical interface Wizard.

Features
Provides a graphical interface to map spreadsheet columns to corresponding MBOs
Notifies users if required keys are not mapped
Identifies duplicate upload records
Checks for valid field length, data type, and format
Formats data based on Maximo data type
Creates Excel drop down lists of valid domain values
Provides a side by side preview of the spreadsheet value vs. the current Maximo value
Automatically cleans non printable characters
Highlights existing values that will change
Identifies records that will be added
Loads directly to Maximo. (No need to convert the spreadsheet to XML or CSV file.)
Identifies successful updates
Highlights any MIF processing errors
Displays MIF Error messages in the cell comments
Provides for easy review, correction, and reprocessing of rejected records
Uses Maximo Object Structure schema to define custom attributes
Adjusts datetime values based on user's time zone
Easily create required child records, for example locations for asset loads
No Maximo configuration or middleware required
Is based on the REST API over HTTP
Applies user Maximo security restrictions
Provides for reuse of repeated uploads
Automate data entry in minutes
Load Excel data into Maximo applications using simple, automated tasks without programming or scripting. Users can easily upload data from multiple spreadsheets, verify fields that will be changed if the record already exists, and address any validation errors before uploading the data to Maximo. MaxQuickLoad supports full MBO validation, applying the same database business rules as when the user enters data in the Maximo application screens.
No Advanced MIF Skills Needed
MaxQuickLoad does not require advanced data loading, database administration, or Maximo Integration Framework (MIF) skills. Designed with end users in mind, MaxQuickLoad has an intuitive interface to make the system easy to learn. Data validation errors are identified early in the loading process, allowing users to correct problems before uploading. With a basic understanding of how to use Microsoft Excel, users can quickly learn how to use MaxQuickLoad.
Review Changes Before Uploading

MaxQuickLoad displays the current Maximo value next to the new value. Values that will change are indicated with a diamond icon and a yellow highlight, allowing you to  quickly identify what will be uploaded.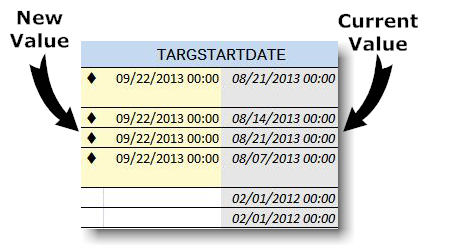 Domain Drop Down Lists

MaxQuickLoad displays a drop down list of valid domain values for domain based fields.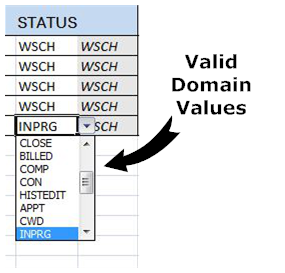 Graphically Map Maximo Fields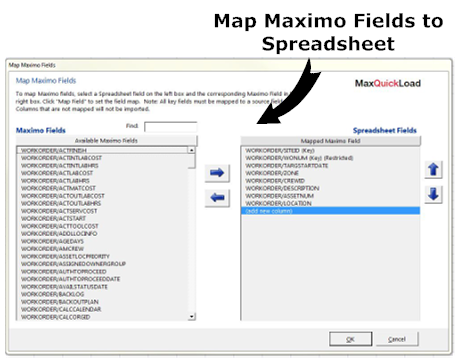 Data Validation Errors Identified Before Uploading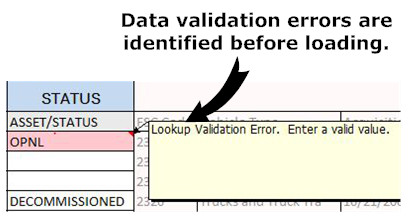 Data validation errors are identified early in the loading process, allowing users to review and correct problems before uploading.
---
System requirements:
 - Operating system: Microsoft Windows 7 and higher
 - Microsoft Excel version: Microsoft Excel 2007 and higher
 - Maximo version: 7.1.1.6 and higher
---
Works with all Maximo modules, including:
Assets, Locations
Work Orders
Item Master
Inventory
Companies
Preventive Maint
PR, PO
Receipts

Job Plans
Safety Plans
Inspections
Labor
Crafts
Calendars
People
System Configuration
Supports all IBM Maximo Industry Solutions, including:
Calibration
Utilities
Oil & Gas
Service Providers

Nuclear Power
Government
Transportation
Life Sciences